The Aughts: ten awesome albums
Rather than pick the ten best albums of the last decade — a nearly impossible task, in my opinion — I decided to pick one influential album from each year and talk about why I think it's particularly important in general, or just specifically for my life.
The beginning of this decade for me marked a significant time in my life, where I felt as though I finally had direction for what I wanted to do. And it all started at the Gateway, the U of A's student newspaper. I was fortunate to meet so many cool people there who exposed me to an incredible diversity of music and popular culture. To my friends from those times (and beyond), thank you for always sharing your delicious tastes with me.
A Dandy beginning
The year 2000 was the biggest let-down in the history of humanity… at least the very beginning of it. Having been warned of impending apocalypse due to the fact that computers are way dumber than originally thought, billions of dollars were spent fixing a non-problem. When the clocks struck 12:00am on January 1, 2000 nothing could be seen or heard other than the sounds of typical New Year's mayhem.
Not until the release of the Dandy Warhols' album Thirteen Tales from Urban Bohemia did anyone even notice that anything had changed. In fact, it took me five more years to really notice this album. But when I gave it a listen, I was hooked instantly. The Dandies know how to make rock n' roll fun, edgy, and interesting. Far from make every sound the same, this album combines some haunting guitar licks with ballads, bluegrass-influenced head-bobbers, and music you can listen and dance to over and over without it ever getting old.
Jacket. Jacket HARD
Back in high school (and still to this day) I was friends with people who had great taste in music. High school began my exposure to skate punk and ska. When I arrived at university, I met lots of people with much more eclectic tastes than my own. Consequently, I was listening to a lot of different stuff.
Some of that different included a once little-known group called Blink-182 — a trio of hilarious punk dorks whose antics were at least amusing, even if you hated them. Aught One marked the release of the follow-up album to their wildly popular Enema of the State, a little album called Take Off Your Pants And Jacket. History remembers the album as more of the same, not a particularly strong release, but certainly not a weak one. For me, TOYPAJ represents a summer of awesome concerts, and anthems from a punk band that had graduated high school and moved onto bigger things.
TOYPAJ is a rock-solid album, by punk standards. Lyrically, it demonstrates a move to more mature songwriting for the group. I recently revived this album on a roadtrip, and it brought back a flood of good memories. TOYPAJ will always be among my Blink-182 favourites.
Of Robots and Concept Albums
The 60s had Sgt. Pepper's Lonely Hearts Club Band by the Beatles. The 1970s had Ziggy Stardust and the Darkside of the Moon. The Aughts will always have Yoshimi Battles the Pink Robots by The Flaming Lips.
Some people would argue that Yoshimi isn't a true concept album, since only the first four tracks apparently deal with Yoshimi's battle directly. I suggest you pop on some high-quality headphones, select track one from this album, and listen to the whole thing through. If you don't think it's a concept album, we can't be friends.
Regardless of its cohesion on an album level, Yoshimi's individual tracks stand up on their own. Musically, they're beyond interesting; lyrically they evoke powerful, strange and psychedelic imagery. If concept albums interest you, you should at least give Yoshimi a chance.
Of Hip Hop and Concept Albums
I didn't really get into Outkast until they released The Love Below & Speakerboxx in 2003. By then, of course, everyone had heard Bombs Over Baghdad, Elevators and other Outkast hits. But this double-disc "album" — which I guess was technically two albums — really demonstrated the vision, talent and innovation that Big Boi and Andre 3000 were capable of.
On Speakerboxx, you're treated to the hip hop stylings of Big Boi, a "normal" album in the traditional sense of the word. Though I think this album suffers from an over-saturation of skits (something endemic to a lot of hip hop albums, which is often a huge turn off for me… Just get to the tunes, says I), its strongest tracks more than make up for this deficiency.
But the true gem of this two-disc set is Andre 3000's concept album The Love Below. More a concept album than, say, Yoshimi Battles the Pink Robots, The Love Below takes listeners on a journey through a young man's quest for love. In this case, the skits serve to support the album's narrative and only seem out of place during one-off listens. The Love Below is easily one of my favourite albums of all time.
Oh my god, he's gorgeous!
For me, the name Dan the Automator will always mean outstanding music. So when a friend told me I had to check out the Handsome Boy Modeling School's So How's Your Girl album, I fell in love instantly. But it definitely wasn't my favourite, in spite of being a Dan the Automator fanboy.
Then, in 2004, Dan the Automator teamed up again with Prince Paul from De La Soul for a second Handsome Boy album: White People. I bought this album without having heard anything about it, operating on the assumption that it would be awesome. And I was hooked from the first track.
The Handsome Boys are masters of collaboration, inviting outstanding guest artists to work on individual tracks and putting them all together with something only slightly geared toward the concept album. From remixes to original jams, White People introduces mainstream and unusual style to a saturated genre.
Spaceghost: 'You had a tag…'
I never got into Beck. I actually still wouldn't consider myself to be into Beck. Guero is the only one of his albums that I actually like. Enough to make it one of the tops for 2005. The reason's pretty simple: it was part of the soundtrack for my summer of 2005. So some of my love of this album is from the nostalgia of that excellent time in my life (and despite the fact I was working a job I hated that summer, it was still tremendous), and some of it stems from the fact that, at least on Guero, Beck is awesome.
'Who you callin' a chump, chimp?'
My foray into electronic music really began in this decade. First, introduced to the extremely bizarre, ambient-yet-musical sounds of Amon Tobin first. This was kind of a huge leap for me. I continued the adventure with The Herbalizer, Thievery Corporation, DJ Shadow, Kid Koala… The list goes on.
And then, there was Bonobo. An unassuming, gentler-sounding DJ, but no less brilliant than the visionaries listed above. I got into Bonobo because of the song "Flutter." In his latest album, Days to Come, Bonobo goes a more traditional route, mixing his unique brand of chill-out music with a singer: Bajka. A more mature Bonobo, but still with a flair for mixing and spinning.
Float on
Modest Mouse's 2007 album They Were Dead Before the Ship Even Sank took awhile to sink in, mostly because the first single "Dashboard" was waaaaay over played on local radio.I got this album from my french cousin who'd recently moved to the west coast. I'd listened to some Modest Mouse before, thanks in part to an ex-girlfriend and a former photo editor from my student journalism days.
At times, you're treated to he nervous, frantic, Bobcat Goltdhwait-esque deliver of Isaac Brock, and then in breaks into lovely ballads always with thoughtful, descriptive lyrics. Whatever you think of Modest Mouse's musical style, I think you have to acquiesce to the fact that Isaac Brock is a true poet.
Beater and the Kings
I didn't know much about the Kings of Leon before last year, when I made friends with a lovely young lady would was part of the staff that looks after my cat. Beater has one of the most eclectic music tastes ever, and I think she afforded me the same status as her: knowledgeable. But when she found out I'd never heard of Kings of Leon, I thought she was going to kill me.
And then, as though to demonstrate to me what I was missing out out, Only By The Night came out. And then I had to go back and listen to all their other albums. If the Kings ruled over all rock 'n roll, I think I'd be OK with that. Lyrically, they're incredible, and sonically, they're unusual enough to be interesting, and rock 'n roll enough to be… rock 'n roll!
This is one of those albums that, for me, came out of nowhere.
Resistance is Futile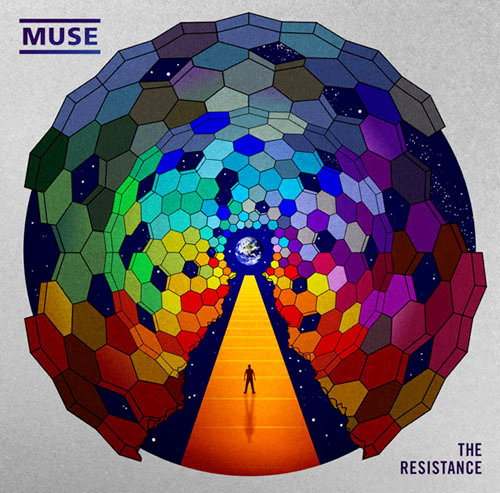 Muse was only recently brought to my attention. Like, a week ago. I'd heard a lot of people talking about them, including the boys and girls who man the SONiC 102.9 Twitter account, and SONiC DJ Liann Cameron. I'm always weary when mainstream radio stations bust out the kind of praise typically reserved for more-of-the-same pop pulp music. But this time they, and everyone else whose said as much, is absolutely bang-on. The Resistance is awesome.
It's hard to describe their sound, but they simultaneous evoke sounds of Interpol and Radiohead and Queen and… well, it's tough to put my finger on it. But, as I said on Twitter, I haven't immediately fallen in love with a band like this in a LONG time.